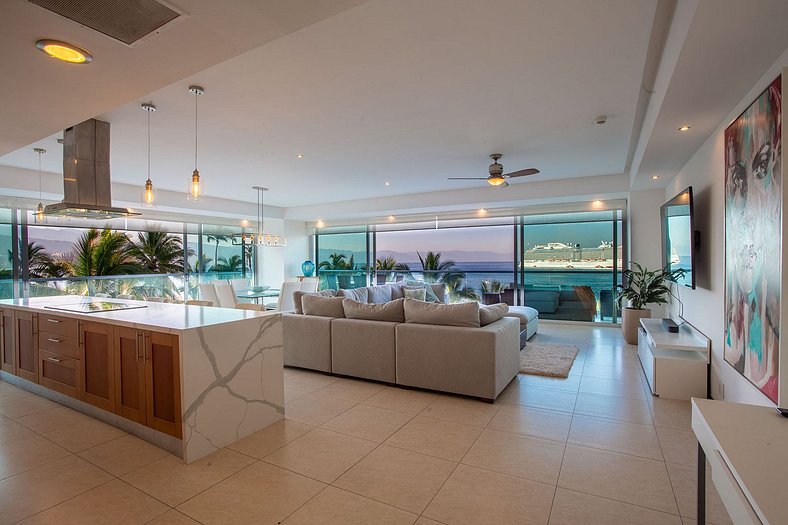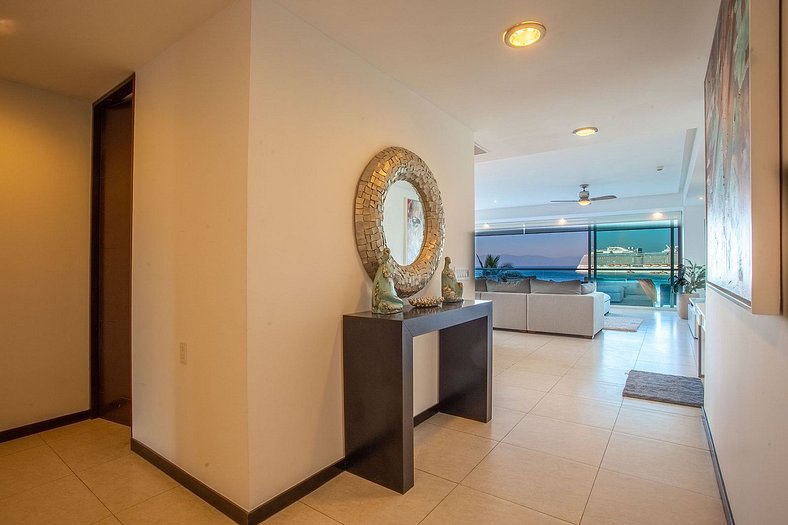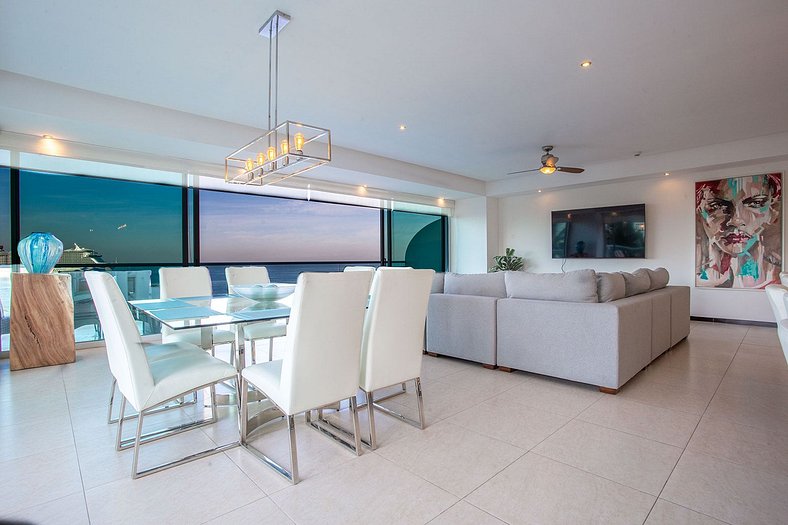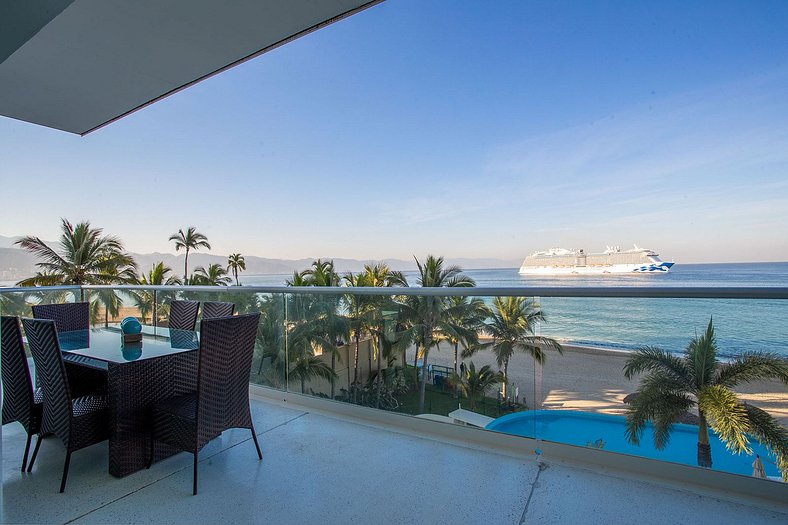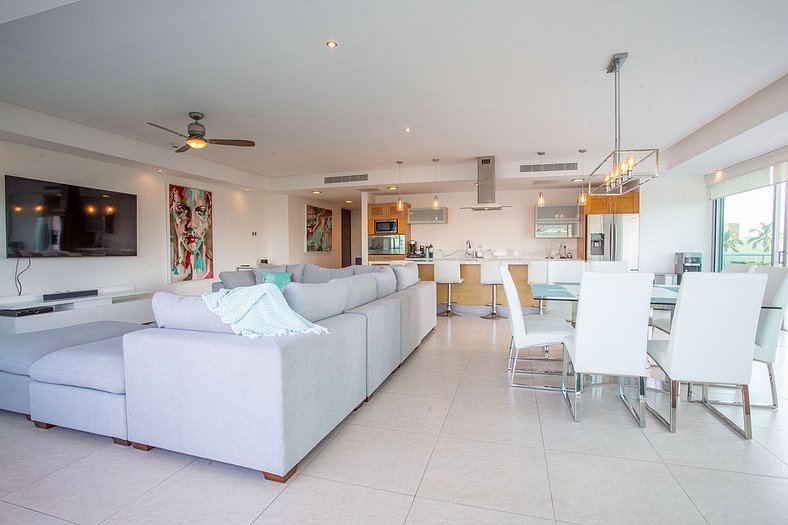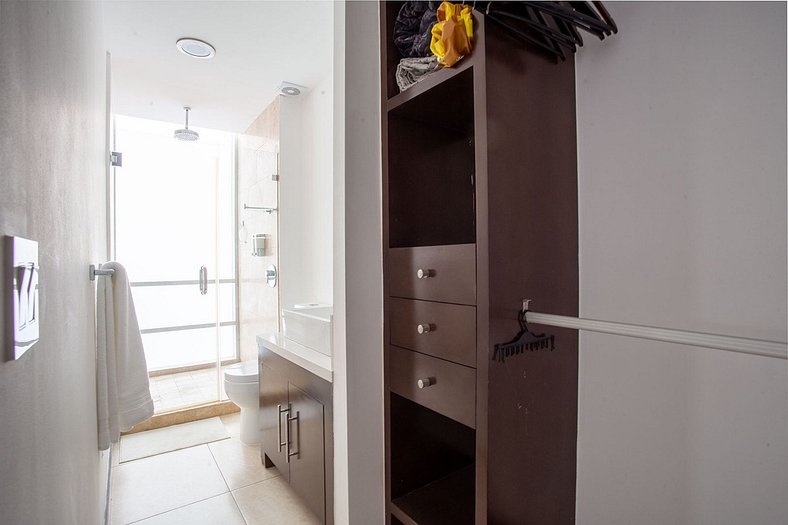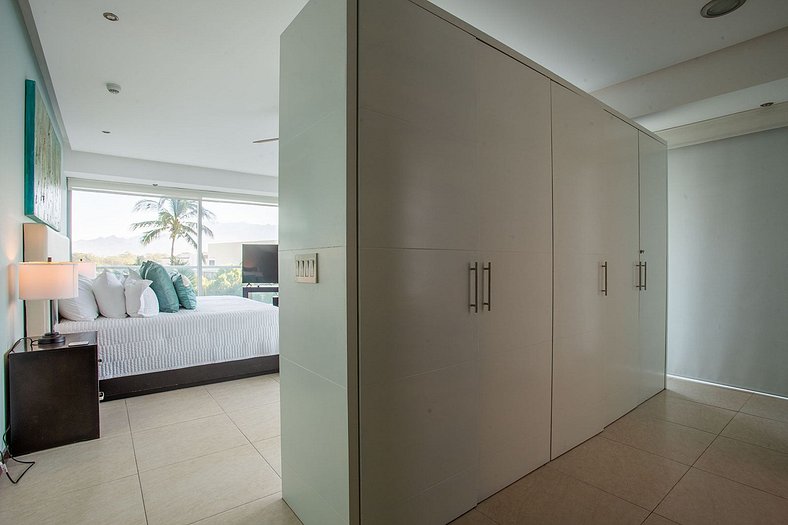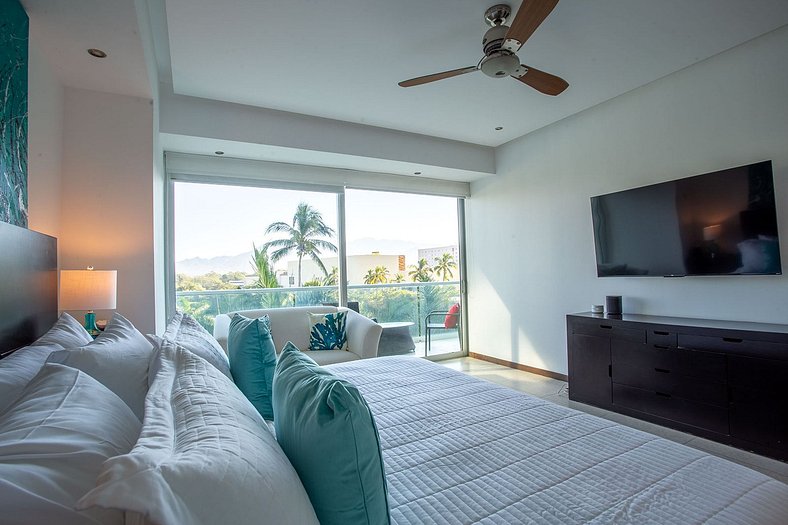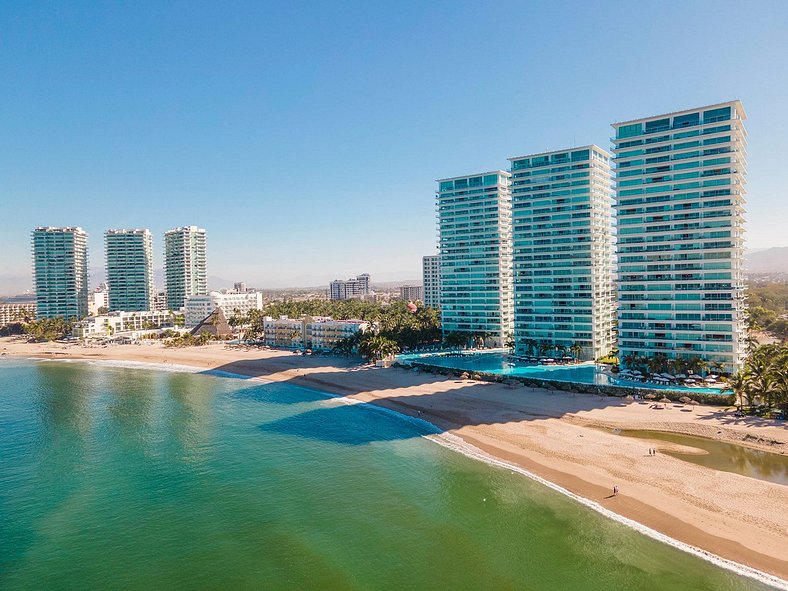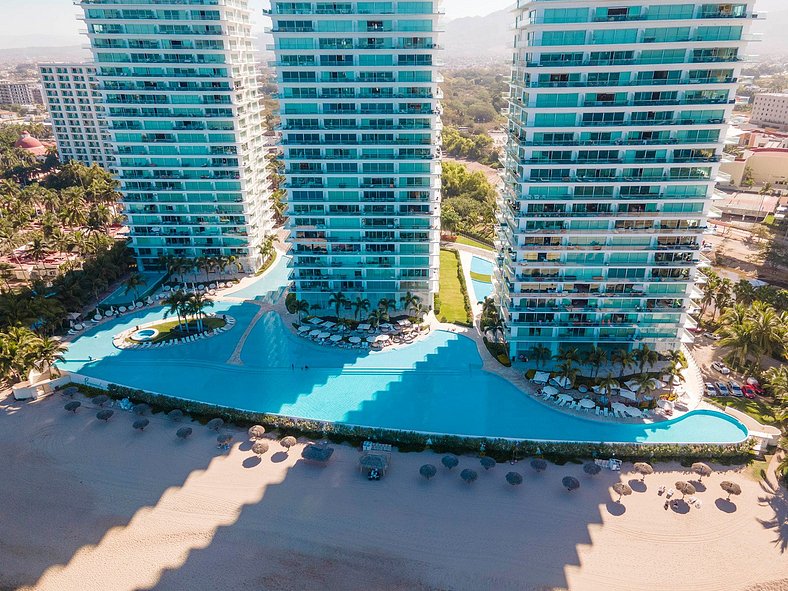 Luxury Spacious 4 BR Condo at Peninsula PV
Zona Hotelera, Puerto Vallarta
4 Habitaciones
10 personas
5 Camas
4 baños
- Luxury stay to be remembered at this magnificent oceanfront condo at Peninsula Vallarta!
- Phenomenal beachfront infinity pool, jacuzzi & private beach access with shaded palapas
- Walk to La Isla open-air shopping center with Starbucks, restaurants and retail stores
- Fast FiberOptic WiFi & dedicated workspace for the remote worker & luxurious upgrades
- Book today for the most memorable trip of your lifetime to coastal Puerto Vallarta!
We provide some bath essentials like soap, shampoo, and toilet paper, as well as a few cleaning supplies, however, please note that these are not replenished during your stay.
Daily house cleaning is not available however, if you would like a mid-stay cleaning, one can be arranged for a fee. Please let us know in advance.
Guests will need to sign a Rental Agreement upon booking confirmation and/or upon arrival.
A security deposit may be required prior to arrival or at check-in, subject to the booking platform used to make the reservation. This fee is charged as a credit card transaction and refunded after check-out, provided all terms are met.
Security cameras are used on the exterior of the property for guest safety and security reasons only.
WE KINDLY ASK ALL GUESTS TO ABIDE BY THESE HOUSE RULES:
- Travelers must be at least 21 years of age or older to book.
- No smoking of any kind (tobacco or cannabis) inside the home, and the use of any recreational drugs on the premises is strictly prohibited. Failure to comply will incur a $300 penalty.
- No parties, events or illegal activities are permitted. Excessive noise is not tolerated, especially after 11 pm, to respect the neighbors.
- No more guests than those listed in your reservation are allowed.
- Renters agree to cover any charge related to damages caused during their stay or cover necessary extra-cleaning charges if needed after their stay.
- Renters must provide a government ID on check-in day and may need to show ID during their stay when identity verification is necessary.
- Pets are not allowed.
- Please adhere to the pool hours and rules designated by the condo complex. If security asks you to observe a rule, please do so. The pool is for registered guests only, no visitors.
This is the epitome of luxury! Let the rich salty air and warm sun illuminate your soul this trip! You'll have breathtaking, panoramic views of the Pacific Ocean in this eleganta and spectacular ocean and beachfront condo.
Prepare to be captivated by the oceanviews from the moment you walk into the open concept living space. Feel the warm embrace of the tropical air as you open the floor-to-ceiling glass sliders where you can extend the space to the outdoors. The private terrace with sofa seating features expansive views and is the best seat in the house for the picturesque, tangerine-sky sunsets that are so wildly famous in Vallarta!
You'll enjoy the luxury upgrades like the quartz waterfall center island, new dining chandelier, quartz countertops in the bathrooms, and much more. And with a fabulous chef's kitchen, you can prepare meals at home with a view. Or take advantage of our add-on service where you can hire a private chef to come to the condo and prepare your meals! Dine at the indoor table with plush seating or enjoy the wrap-around terrace where you'll have views of the pool, beach, ocean, river and mountains.
At the end of a long, satisfying day, retire to one of the four delightfully comfortable bedrooms. Two are master suites where you can relax and sink into a luxurious king-sized bed and fall asleep gazing at the night sky through the oversized windows.
Bedroom 1 is the oversized king master bedroom with a private terrace with ocean, river and mountain views, a separate tub in the ensuite bathroom, a desk and sofa.
Bedroom 2 is a junior king master suite with a private patio, ensuite bathroom, sofa & mountain views.
Bedroom 3 features two full-sized beds, an ensuite bathroom, river and ocean views.
Bedroom 4 is the video game room! Includes a bunk bed with a pullout trundle bed so you can sleep 3 in here! The TV comes with XBox and a dock for Nintendo Switch.
The Peninsula amenities are wonderful. Find the poolside snack bar offers drinks and lunch items to enjoy by the pool or room-service style, delivered to the condo. There's an on-site spa that offers pedicures, manicures and massages (in spa or in the condo). There is also a gym on site with plenty of free weights and modern equipment. The security team on site keeps maintains safety and security throughout the building.
We have provided beach toys and sports equipment for our guests. The pool overlooks the sea and has different depths, including a shallow area, perfect for our littlest guests.
Adjacent to the property is the famous La Isla open-air shopping center with Starbucks, restaurants and retail stores. There are many amazing restaurants within walking distance. The city center and the Malecón (the seaside promenade) are 5 to 10 minutes away by taxi.
Book today for an incredibly memorable stay. We can't wait to host you!
You'll have full, exclusive access to luxury condo and shared access to the community amenities on site.
Someone will meet you at check-in to show you around and then you may come and go as you please as the villa will be exclusively yours.
You'll have complete privacy during your stay, but we're available 7 days a week. Should you need anything, just send us a message!
The Peninsula amenities are wonderful! You'll have a poolside snack bar, a spa and a gym on site. Plus, just next door is the famous La Isla open-air shopping center with Starbucks, restaurants and retail stores, and many other amazing restaurants within walking distance. The city center and the Malecón (the seaside promenade) are 5 to 10 minutes away by taxi.
The property is 2 km |2.5 miles from the Licenciado Gustavo Díaz Ordaz International Airport (PVR). There's free designated parking if you are arriving by car. There are also private airport transfer options, authorized taxi services, and ride-share services like Uber and DiDi.
Individual
1 Litera (s) (2 personas)
Se Permite Niños (desde 02 hasta 12 años) sí


Se Permite Bebés (menores que 02 años) sí


Fornece Cunas no

Restricción de Edad para Hacer la Reserva 35

Se Permite Fumar en la Habitación no

Se Permiten Mascotas no

Se Permiten Eventos no

Tiempo de descanso 22:00 - 8:00

Horario para llegadas 16:00 - 23:00

Horario para salidas 6:00 - 11:00
ver todas las reglas
RULES AND REGULATIONS
Check in time 4:00pm Jalisco, MX time Check out time 11:00 AM Jalisco, MX time
Thank you for choosing one of the condos that we manage for your stay in Puerto Vallarta and / or Riviera Nayarit. These
rules and regulations of the condo are to help insure that your visit will be most pleasurable.
All Rules and Regulations are strictly enforced and violators will be held accountable including, but limited to, eviction from the premises, arrest by proper authorities, and/or forfeiture of all monies paid.
We are confident that you will abide by these and enjoy your stay!
There is a zero tolerance on loud, rowdy and disruptive behavior including threatening or abusive behavior.
Harassment or physical abuse of any person by another is prohibited and violators will be subject to immediate removal from the property. NO offensive, intimidating, threatening behavior will be tolerated.
Please notify us if there is anything wrong with the unit at check-in, including cleaning issues
Glass containers or breakable dishes are not allowed in the pool areas.
Pool furniture is not to be moved from the pool deck area or used in any way on the beach.
Pools and common areas are to be used only by the registered guests. Visitors are not allowed in those areas.
Pool hours of use are from 9AM to 9PM unless otherwise designated by the condominium.
Towels are not to be used to "reserve" pool loungers. If a lounger is vacated for over 15 min. it can be claimed by another person.
Donotleavevaluablesunattendedbythepoolorincommonareas. Securevaluablesintheunitinthesafeprovidedor other secure location. Be sure to always lock the unit when you leave.
Mexican Law prohibits fireworks, drugs and firearms. Fireworks are prohibited within 1 mile of the properties.
No loud music may be played in a way to disturb other occupants after 9pm. Please also respect the people around you at the pool when you have music playing and keep volumes low.
Room capacity is: 3 bdrm – 6 persons, 2 bdrm – 4 persons, 1 bedroom – 2 persons. Nootherpersonsareallowedtostayintheunitthatarenotonthereservationandregisteredatthetimeof checkin.
BBQ grills are allowed only on patios or areas where they are located by the pool. They are not to be moved inside the unit. You are responsible for cleaning up after using the BBQ in the common areas.
Itisyourresponsibilitytoremovetrashfromtheunitasneededandtoplaceitintheareadesignated. Somebuildingshave a designated recycle area as well. Do not leave trash in hallways, outside the door or on patios. Place promptly in the designated area..
Ifyourunitissecuredbyakey,youmustreturnthekeysatcheckoutorpayforareplacementkey. Iftheunithasan electronic lock, do not give the code to the lock to any person not included on your check in.
Please park only in the parking space designated for your unit, where available. Our company and the Condo Administration are not responsible for your vehicle and/or items left inside of your vehicle
Hanging any sort of clothing or towels on the balcony railing is prohibited.
Swimming suits only are allowed in pools. Street clothes such as shorts, teeshirts are prohibited in the pools and/or Jacuzzi. Smoking is not permitted in any unit. Smoking is not allowed in the common areas unless approved by the Condo Administration.
Pets are not allowed unless approved by the Condo Administration and may be subject to additional charges. If allowed, please use only areas outside the Condo for walking and deposit waste bags in outside trash areas only.
Monthly rentals (28 days or more) do not include electricity. Please check with us about other utilities.
Other rules may apply at different condo buildings and will be in the guest book in the unit.
I have read and understand theses rules and regulations. I acknowledge that breaking these rules may cause the loss of anyremainingtimeintherentalunitandthelossofmypayment. Deliberatedamageswillbechargedagainstmycreditcard
or cash deposit on file with our company with 10 days of my departure. I take full responsibility for any and all damages I or any of my guests may cause during my occupancy. FORCE MAJEURE: We cannot be held responsible for lack of electricity due to power outages from storms or CFE (the electrical company) issues or by any other means out of our control. Nor can we be held responsible for internet or phone issues, water shortages, weather, acts of nature, and/or acts of mankind that may impede or otherwise impact your stay. Therefore, there will be no refunds.
Guest Signature______________________________ Guest Name________________________________# of persons _______# of children under 12 _______ UNIT #_________

Agua Caliente

Aire Acondicionado

Aparcamiento Gratuito

Armario

Ascensor

Asientos en Salón Comedor

Balcón

Bañera

Botella de Agua

Botes de Basura

Calefacción

Champú

Cocina

Cocina Completa

Detector de Humo

Detector de Monóxido de Carbono

Ducha

Elementos Básicos del Baño

Entrada Privada

Escaleras con Puerta (seguridad)

Extintor de Incendios

Lavaplatos

Ganchos para Ropa

Gimnasio (privado)

Habitaciones familiares

Horno

Internet

Utensilios de cocina

Toallas

Lavadora

Mantas y almohadas adicionales

Microondas

Nevera

Papel Higiénico

Plancha

Productos de Limpieza

Ropa de cama

Secador de Pelo

Secadora

Secadora

Sofá

Televisión

Terraza

Timbre/Intercomunicador Inalámbrico

Tostadora

Vajilla y Cubiertos

Vista para el Océano

Vista para la Montaña

Vista para la Playa

Wi-fi

Garaje Gratuito 0

Área - 0 (m²)
Aire acondicionado

Alquiler de autos

Alquiler de bicicletas

Ascensor

Bar

Centro de negocios

El personal cumple con todos los protocolos de seguridad establecidos por las autoridades locales

Elementos básicos de la playa

Entretenimiento nocturno

Gimnasio (área común)

Información turística

Jacuzzi (uso común)

Jardín

Lavadora (uso común, pagado o gratuito)

Masaje

Mueble para exteriores

Niñera / servicios infantiles

Parking adaptado para personas de movilidad reducida

Parking

Patio

Patio o Balcón

Permite estadías con más de 28 noches

Permitido dejar maletas

Piscina al aire libre (Compartida)

Frente a la playa

Restaurante

Rutas a pie

Sala de estar compartida / TV

Secadora (uso común, pagado o gratis)

Servicio a la habitación

Servicio de conserjería

Servicio de delivery de alimentos

Tiendas (en el establecimiento)

Venta de souvenirs

Vista para la playa

Recepción 24 horas

Check-in/checkout exprés

Aparcamiento

Internet Wi-Fi
Desde
MX$ 5.164,00
por Noche
E-Mail
¡Póngase en contacto con nosotros!