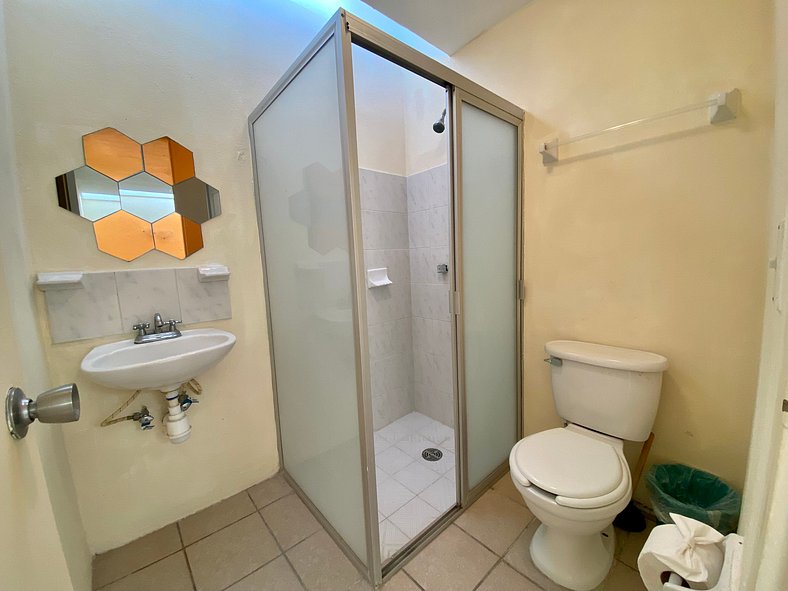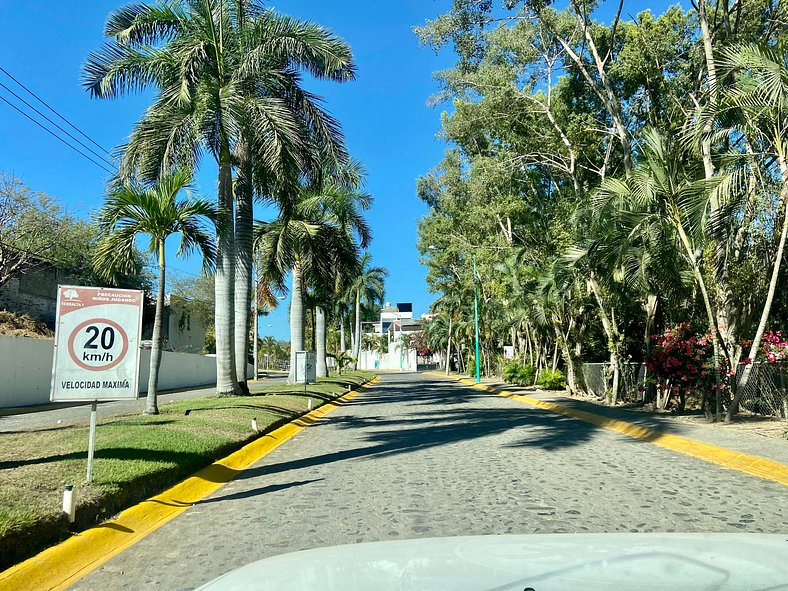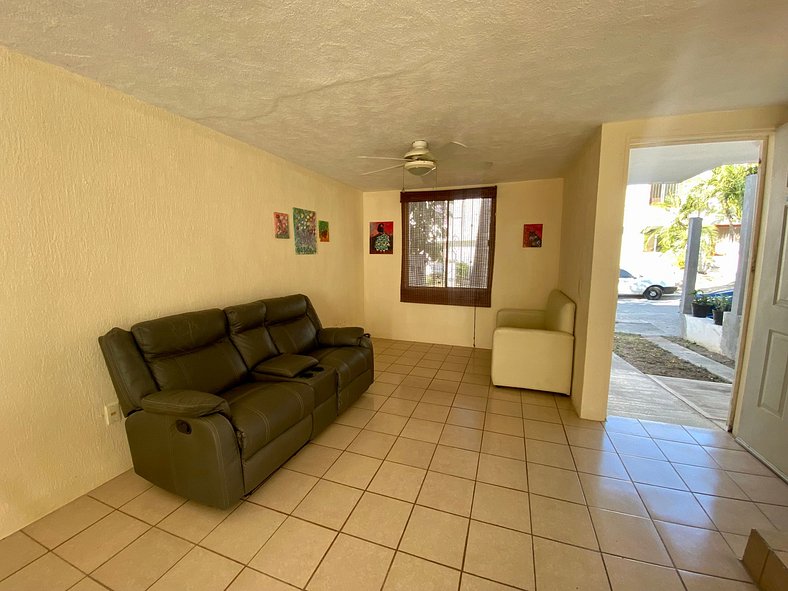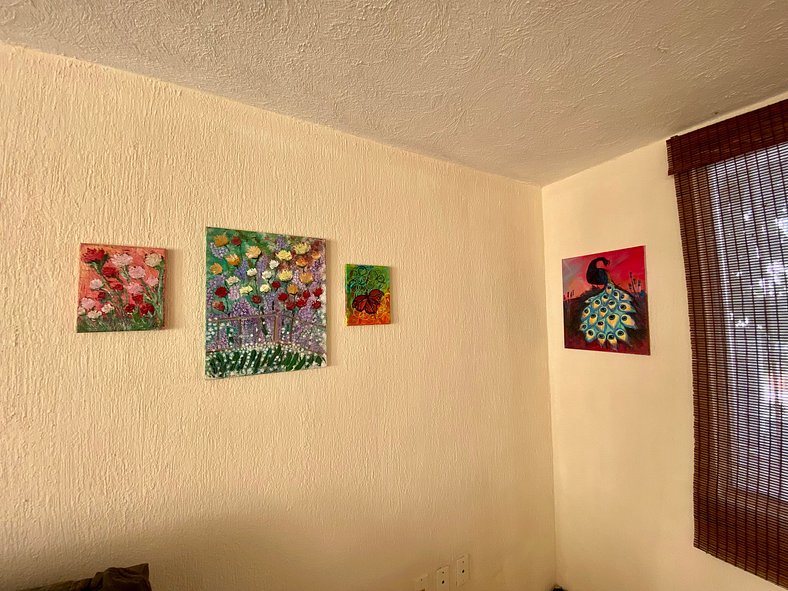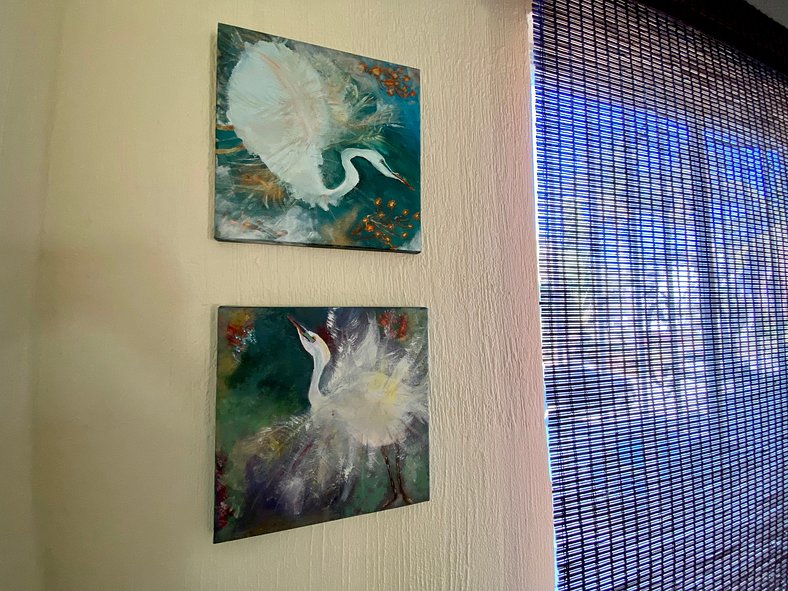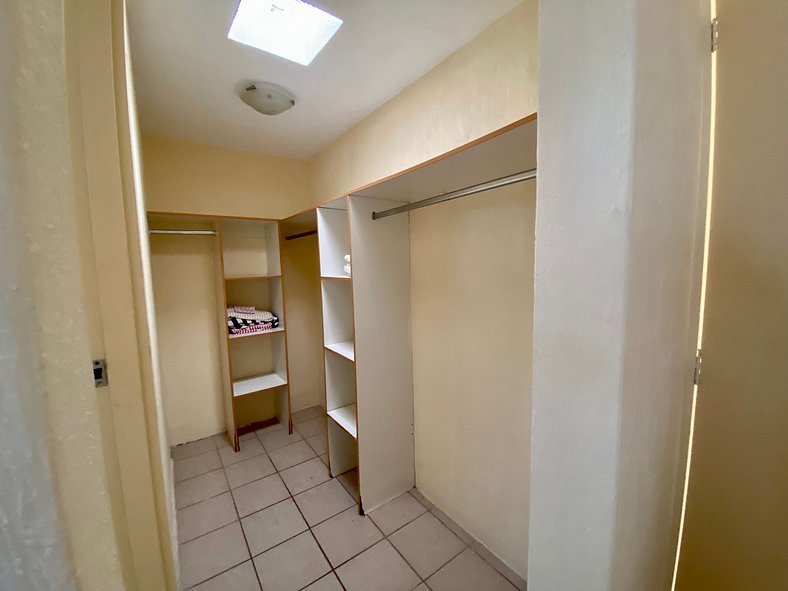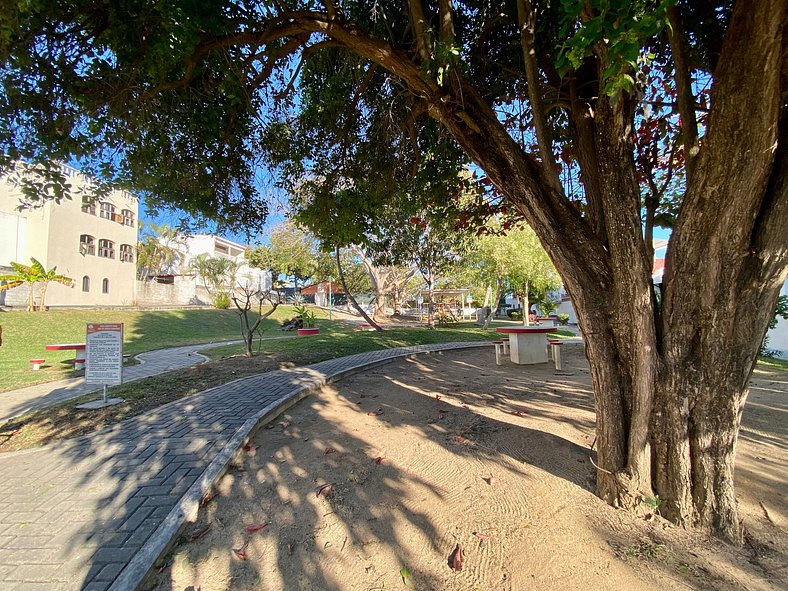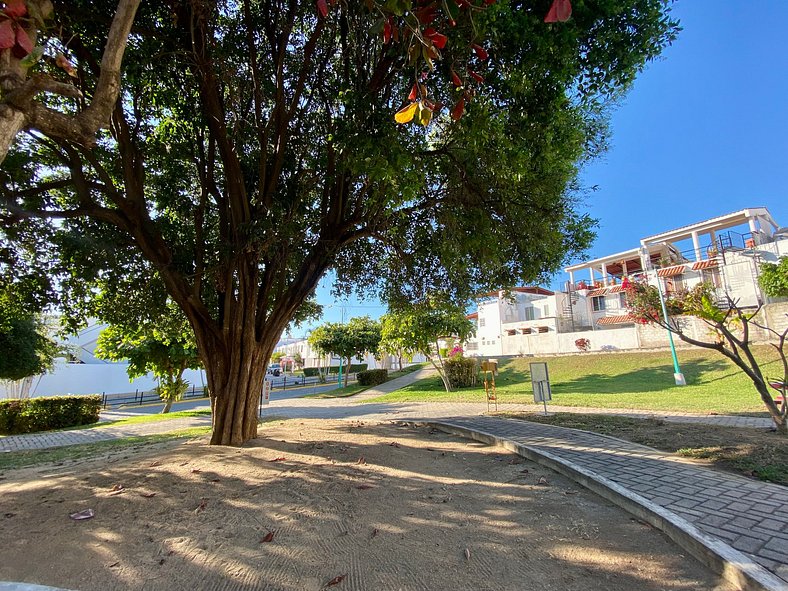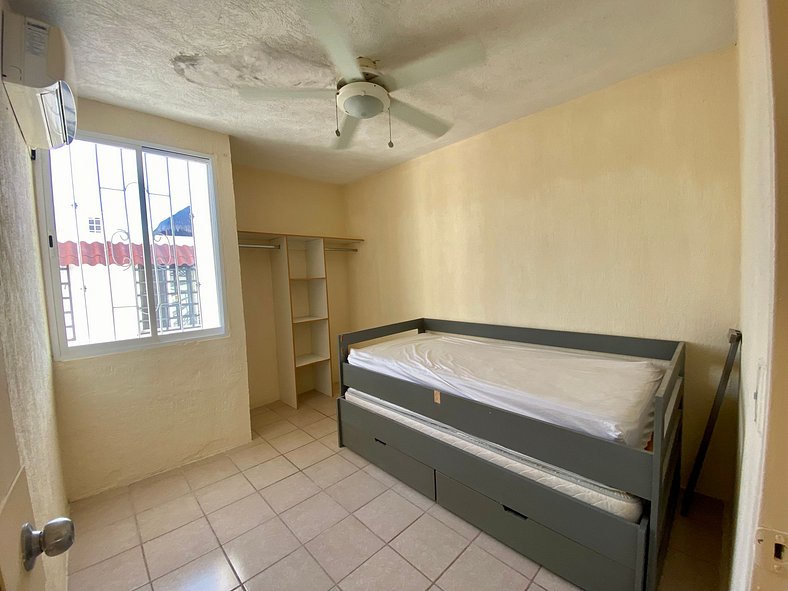 Tall Palm, Happy Place-Affordable Casa in Bucerias
Terralta 1., Bahia de Banderas
3 Habitaciones
6 personas
5 Camas
2.5 Baños
After a brilliant day in Bucerias, you'll love coming home to your nice-sized 2-story, 3-bedroom, 2.5 bath casa. Greeting you in front is your own very tall palm tree. It's your welcoming committee, saying hello (or hola) as it waves it's high branches. Open your gate and door to a bright and cheery living area, with happy, whimsical artwork, a recliner couch and love-seat. Dine or have some fellowship time around your large granite table, big enough to seat 6, also surrounded by cheery artwork and a blue and white cultural water jug. There's lots of light and air with your sliding glass door along the back. Pass the bar/counter into your kitchen, where you can prepare your favorite Mexican meals. Your quaint kitchen is equipped with a large stainless steel refrigerator, stove, oven, sink, and cupboards, complete with plates, bowls, cups, glasses, silverware, and essential pots and pans. Casa opens out to small backyard, perfect for a dog, if you happen to have your furry friend with you. Also outside, find a stainless steel washing machine.

Venture up the white-tiled staircase to find your master "garden bedroom" facing front, themed with birds and butterflies! This heavenly haven has a small balcony that overlooks the park… with beautiful breezes and vistas. Lovely to lay in your Queen/Matrimonial bed with the balcony door open and read, rest or reflect. Master bedroom has its own AC, bathroom, shower, and very spacious closet area.

Also upstairs, enjoy two smaller bedrooms facing the back— each has captain beds that pull out to reveal two twin mattresses, if needed. These two rooms have ample closet space and access to another upstairs bathroom with a shower.

You'll be staying in a safe, gated community, with lots of walking paths and parks. It's a quiet, residential neighborhood- made up of friendly Mexican locals, Canadians, and Americans. Best of all, it's very affordable and just a 5-10 minute walk back from the beach or el centro.

Fabulous economic deal for your next short get-away or longer stay to Nayarit! We look forward to welcoming you to your Tall Palm Happy Place. Here, we hope you'll find the space you need to embrace the joy you're searching for … as well as the blessing of serenity near the sea!

Doble 2
2 Cama (s) Individual (es) (Twin)
Doble 3
2 Cama (s) Individual (es) (Twin)
Se Permite Niños (desde 02 hasta 12 años) sí


Se Permite Bebés (menores que 02 años) sí


Fornece Cunas no

Se Permite Fumar en la Habitación no

Se Permiten Mascotas no

Se Permiten Eventos no

Horario para llegadas 16:00 - 23:00

Horario para salidas 6:00 - 11:00
ver todas las reglas
Agua Caliente

Aire Acondicionado

Armario

Asientos en Salón Comedor

Bañera

Botes de Basura

Champú

Cocina

Ducha

Elementos Básicos del Baño

Entrada Privada

Lavadora

Microondas

Nevera

Papel Higiénico

Productos de Limpieza

Ropa de cama

Sofá

Terraza

Toallas

Utensilios de cocina

Vajilla y Cubiertos

Garaje Gratuito 0
Aire acondicionado

Parking

Parking en la calle (gratuito)

Parrilla / Zona de pícnic

Permite estadías con más de 28 noches

Servicio de lavandería

Check-in/checkout exprés

Aparcamiento
Desde
MX$ 1.688,00
por Noche
E-Mail
¡Póngase en contacto con nosotros!